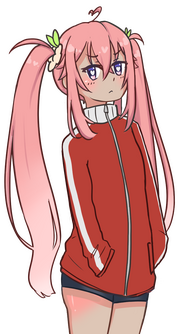 Strawbebbie
Digital artist and practicing live 2d rigger
|| Commission status: OPEN || Slots: 2/5
Hiya, I'm Strawbebbie, a tsundere strawberry Vtuber who also loves to draw and dabbles in rigging. Welcome in~

If you're inquiring about a rig commission those are case-by-case and you should msg me for info

NOTE
I am allowed to accept or reject any commission requests for any reason. I am very busy, so please allow at least one week after I have accepted your commission to ask me for updates.

Rules
You do not need to give credit if you use my drawing as an icon or banner, but it is very much appreciated. This does not apply if I do a rig for you or you are using my art for commercial use. If you plan to sell or make anything with my art, I am open to it, but we need to discuss it first. Commissions may take anywhere from a week to three weeks.

What I can do
-Things that match my style
-Kemonomimi
-Lewd art
-Guro / gore

What I can't do
-Very masculine characters
-Mechas
-Animals
-Detailed backgrounds
-Some furry art (depends, msg me for more info)

Payment
I will be sending you an invoice via. Paypal, so please have that ready as a method of payment. I will let you know when I have begun drawing an initial sketch, you can look it over and if everything is good, an invoice for full payment will be sent. After I receive your payment I will continue and finish your drawing. I will send the finished product as a PNG and a transparent PNG as well.
(still in progress) Nothing here yet ~

If you're inquiring about a rig commission those are case-by-case and you should msg me for info
Please read my read first page

You can DM me on twitter, discord, or you can email me!
Discord: Strawbebbie <3#2377
Twitter: @ttvStrawbebbie
Email: coming soon

Please let me know the following:

How to best contact you:

Paypal Email:

What type of commission:
-Sketch
-Quick color
-Flat color
-Full color
-Chibi
-Bust
-Thigh
-Full body

References: Pictures of your character(s) and optional poses, outfits, ect. that you want included

Extra: Feel free to ask me any additional questions you might have!
Sketch
Prices
sketch chibi : $20
sketch bust : $25
sketch thigh : $35
sketch full body : $45
add flat color: + $5-10
additional characters: +$5-25
---
Chibi
Prices
chibi sketch: $20
chibi flat color: $25
chibi full color: $30
additional characters: +$10
---
Bust
Prices
bust sketch : $25
bust flat color : $30
bust full color : $40
additional characters: +$10-15
---
Thigh
Prices
thigh sketch: $35
thigh flat color: $45
thigh full color: $50
additional characters: +$10-15
---
Full body
Prices
full body sketch : $45
full body flat color : $60
full body full color : $70
additional characters: +$20-30